No More of This: A Sermon Written for 9/11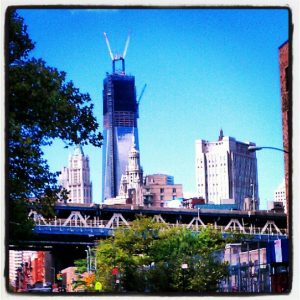 This past summer I was enrolled in a preaching class at Wesley Theological Seminary entitled Preaching Practicum. During our class we were asked to preach to situations which included disasters. I landed in the group that whose task was to write a sermon as if 9/11 had just happened. Being from New York City's Lower East Side this sermon was challenging. I was able to draw on the emotions of returning home in October of 2001 to a changed skyline and the stench of crumbled buildings and the people who perished in the midst of them. Truly I tell you it is a smell I will never forget.
I pray for the souls of those who were lost, you'll never be forgotten and I praise God for the real life heroes who risked their lives to help. Below is my assignment.
No More of This
Situation: September 11th has just occurred and I'm asked to preach a sermon. Being that I was born and raised in lower Manhattan I have chosen to write this sermon as if I were in Manhattan on the Sunday following that Tuesday. A few members worked in the area and escaped the collapsing buildings. Others had relatives who did not escape the collapse of the building some are hopeful that their loved ones will turn up others are doubtful. There will also be new visitors whose needs will be unknown.
What are the factors to consider in this situation?
People will be in a state of shock
Some will still be in search or wondering of family and friends lost in the collapse of the buildings
More people will be in attendance simply in search of answers and comfort
People will be angry and will be looking for America to seek revenge
Being that there are plenty of Arabic owned corner stores in the neighborhood some may look to seek revenge on them. Threats have started as a few days has passed since the attack.
People may begin to question God and why God will allow this to happen
Fear will begin to set in for some
Who are the persons needing special attention? Why? How, or in what aspect of service/sermon are these needs attended? Where is the hurt or special need the Good News must speak to beyond individuals directly involved?
In addressing the needs of the community I will have to cast a wide net. Some members are purely angry and are looking for the United States to attack with force. Some members are in a grieving period as they still are unable to reach loved ones who worked in the City Hall area. The Good News that must be spoken to the community is God is still with us. Also we cannot allow the enemy to harden our hearts to a place where we want to take revenge into our own hands. We have to be reminded that although difficult Jesus teaches to turn the other cheek.
What must be avoided? Why?
Rallying the crowd could be dangerous because people may be hype to take action into their own hands. I cannot overlook the fact that some have lost love ones but I also have to be reminded that this is not an ordinary funeral service or memorial, there are many caskets being buried right now, not just one.
Scripture Readings:
Psalm 34: 4 I sought the Lord, and he answered me, and delivered me from all my fears. 6 This poor soul cried, and was heard by the Lord, and was saved from every trouble.
Isaiah 61: 4 They shall build up the ancient ruins, they shall raise up the former devastations;
Neh 6:3 So I sent messengers to them, saying, "I am doing a great work and I cannot come down. Why should the work stop while I leave it to come down to you?"
Luke 22:51 But Jesus said, "No more of this!" And he touched his ear and healed him.
Prayer
God we pray for all of the souls and lives lost in the destruction that occurred on September 11th. We pray in that in the rescue efforts that people are found unharmed. We also thank you for those who were able to escape the crumbling buildings. Lord our hearts are heavy, we are confused and we do not understand so we pray that you give us a sense of peace. Peace for those who had to run for their lives, peace for those who are still in search of their loved ones and peace for those who know their love ones are no longer here but with you. Finally God we ask that you do not let our hearts get hardened, although we are angry and desire revenge teach us that we are not to take revenge into our own hands.
In Jesus name we pray – AMEN
Sermon
It has been five days. Five days and I am still at a loss of words. It is now September 16 and the destruction that took place on September 11th still seems like a nightmare that I have not been able to wake up from. From now on as we walk down Madison Street and gaze over the Manhattan Bridge we will notice a hole in the sky. The Twin Towers, both the North and South lie in ruins. Let us not forget 7 World Trade Center along with the Hilton Hotel, the damage to the Pentagon in our nation's capital. Still fresh are the memories of the innocent lives that were lost not only in the buildings but also those lives of those aboard American Airline Flight 11, United Airline Fight 175, American Airline Flight 77 and United Airline flight 73. God, the stench of death is attacking all of our senses as we in lower Manhattan can smell the destruction from miles away from ground zero. The dust has settled but it is still on the streets, on the buildings and for some still in our unwashed clothes. We all know someone who has experienced loss because if this mindless behavior. Some of our very own members still have family that are missing and we pray that God will deliver them from the ashes. In some form or another we all have been effected and we ask why God?
As we cry out to God for a response let us be reminded of what David wrote when he had been driven out of his Kingdom. David tells us that when we seek the Lord, God will deliver us from all of our fears and that when we cry out God will not only hear us but God will also save us (Psalm 34:4,6). God will hear our cries and in time God will also save us who are poor in spirit, God will calm those of us who remain broken hearted. Although our hearts maybe heavy and our spirits may be broken or in ruins (Isaiah 61:4), when we seek God faithfully, we will be filled with the Spirit of God which will move us out of our former devastations towards a process of restoration. In time we as a community will be restored. We will soon be restored. After we are restored we must pray for the restoration of our enemies and the un-hardening of their hearts in order that the violence may stop.
As we begin to heal and rebuild we must not be pulled down by words that encourage retaliation. Church this is the trick of the enemy. The enemy wants us to be pulled off of our path of restoration. This is the same thing that happened to Nehemiah as he led the task of rebuilding the destroyed wall of Jerusalem. Time and time again the enemies of Nehemiah tried to persuade him to come off of the wall in order to put a stop to the restoration but he simply replied, "I am doing a great work and I cannot come down. Why should the work stop while I leave it to come down to you (Nehemiah 6:3)?" The media will show us those overseas celebrating our demise. Over and over we will hear the quotes from our government leaders stating, "freedom itself was attacked this morning by a faceless coward and freedom will be defended (George Bush)." We are also hearing that the "United States will hunt down and punish those responsible for these cowardly acts" and that "we will make no distinction between the terrorists who committed these acts and those who harbor them (George Bush)," but do not be fooled church your hearts must not become hardened. You must not come down. While seeking God a restoration will begin and these distractions are a trick of the enemy. Now more than ever we the church must let the world know that violence only begets violence. We are hurt and in pain but we do not want the media to enhance these emotions that will let us be fine with retaliation. As Christians we must be reminded of the actions of Jesus as he was betrayed by Judas. We must be reminded of the actions and the words of Jesus when Peter came to Jesus' defense and struck the slave of the high priest who came to seize Jesus. We must be reminded that Jesus screamed out "STOP! NO MORE OF THIS! (Luke 22:51)." Not only did Jesus command that there be no more violence Jesus also went on to heal the slave's ear. As Christian's, after we have grieved and while we are on our path of restoration, we must scream out to the four corners of the world, "STOP! NO MORE OF THIS!" Some will say an eye for an eye and a tooth for a tooth, but the very words out of Christ's own mouth is "Stop No More of This", no more wars that are driving our country into debt, no more wars where there will be casualties on both sides, no more retaliation which will only lead to a never ending cycle of hurt and pain.