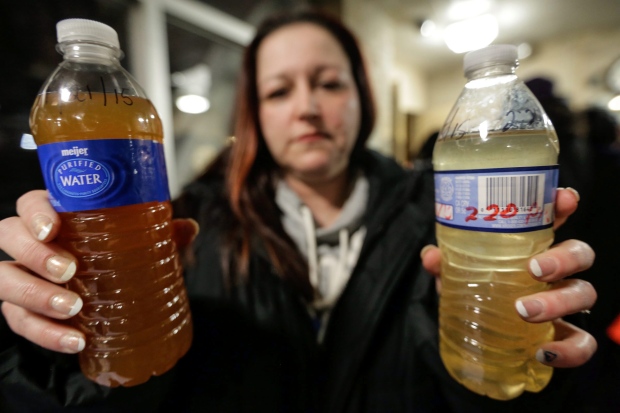 Theology Thursday 28 – The Flint Water Crisis
Notes
Job 24
24  "Why are times not kept by the Almighty,
and why do those who know him never see his days?
2     The wicked remove landmarks;
they seize flocks and pasture them.
3     They drive away the donkey of the orphan;
they take the widow's ox for a pledge.
4     They thrust the needy off the road; [1]
the poor of the earth all hide themselves.
5     Like wild asses in the desert
they go out to their toil,
scavenging in the wasteland
food for their young. [2]
Context
Job's complaint that oppression and criminality flourish on the earth
Discussion Questions
What's happening with the Flint Michigan Water Situation
April 2014 in attempt to save money Flint officials stopped using Detroit water an switched to water from the flint river with is 19X more corrosive
Corrosive water can be defined as a condition of water quality which will dissolve metals from metallic plumbing at an excessive rate.
Switched back in October 2015
State of emergency declared January 6, 2016
70 Miles from the Great Lakes, one of the greats fresh water sources in the world
8,657 children, based on Census data exposed to contaminated water
| | |
| --- | --- |
| Effects of Long-Term Lead Poisoning[3] | Lead poisoning symptoms in adults[4] |
| Lead poisoning can lead to a variety of health problems in kids, including: | Although children are primarily at risk, lead poisoning is also dangerous for adults. Signs and symptoms in adults may include: |
| ·         decreased bone and muscle growth | ·         High blood pressure |
| ·         poor muscle coordination | ·         Abdominal pain |
| ·         damage to the nervous system, kidneys, and/or hearing | ·         Constipation |
| ·         speech and language problems | ·         Joint pains |
| ·         developmental delay | ·         Muscle pain |
| ·         seizures and unconsciousness (in cases of extremely high lead levels) | ·         Declines in mental functioning |
| · | ·         Memory Loss |
| · | ·         Mood disorders |
| · | ·         Premature births, low sperm count |
Demographics
Population roughly 100k
Median House/Condo Value $23,131
Percentage of residents living in poverty in 2013: 41.8%

Unemployment rate 14.6%

33 square mile city with no grocery store
Median age is 36.5
Average Income $23,131
Median House Price $49,581
Median gross rent $656
Read more: http://www.city-data.com/city/Flint-Michigan.html#ixzz3xtYt3jdD
How can the residents of Flint Michigan/Genesee County experience God if the country doesn't show them God exists?
60.6% of residents have no religious affiliation
Are these major crimes our fault or God's fault?
How are we to encourage the poor when collectively we show them we don't care?
---
[1] The Holy Bible: New Revised Standard Version. (1989). (Job 24:1–4). Nashville: Thomas Nelson Publishers.
[2] The Holy Bible: New Revised Standard Version. (1989). (Job 24:4–5). Nashville: Thomas Nelson Publishers.
[3] http://kidshealth.org/parent/firstaid_safe/home/lead_poisoning.html#
[4] http://www.mayoclinic.org/diseases-conditions/lead-poisoning/basics/symptoms/con-20035487